Community Profile

This journal should be viewed with discretion.
Free Account
Created on 2012-04-25 05:39:25 (#1607087), last updated 2012-08-30 (264 weeks ago)
4,611 comments received
108 Journal Entries, 43 Tags, 0 Memories, 0 Icons

About
| | |
| --- | --- |
| Name: | Chaos Precip |
| | |
| Website: | Chaos Precip wiki |
| Membership: | Moderated |
| Posting Access: | All Members |
| Community description: | Post-apocalyptic wild west AU panfandom. With magic. |

Mini Bio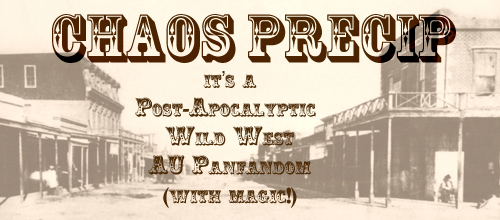 Setting ~
The Wiki
Contact ~
Contact Journal
OOC ~
Out of Character Community
Posting guidelines:
Any format is accepted, so long as the scene is posted in the community. Links to journal entries are actively discouraged. Some suggestions for posting are:
1) Fics
2) Chatlogs, cleaned up for ease of reading
3) Open posts for threading in. The subject line of the post should include "fic" or "log" in it as well as a brief description of where it's set. Since our game spans North and Central America, giving a geographical situation is a good idea. A subject line should look something like this: "Fic - Chicago", "Log - Mexico City", "Open - a pub in San Fran". Any post not including "fic" or "log" will be assumed to be open to everyone.
Open posts for threading should contain at least a short paragraph. Multiple paragraphs are not necessary, however posts consisting of merely a name and a location are insufficient.

Connect
Administrators

Members (29):
aquaphobic_pyro
,
belphe
,
bluephoneangel
,
butterflynature
,
calm_havelock
,
chaos_twisted
,
chaoticapps
,
charged_wth_service
,
curiousbodyguard
,
cutestadventurer
,
dagger_dancer
,
dustydiary
,
fearfullymade
,
harmitwithspark
,
irken_nature
,
livingdeadpool
,
missesthemajor
,
mitochondriaaya
,
mom_rocks
,
no_andy_taylor
,
noteasytobeblue
,
noteasytobepink
,
pyronaut
,
red_on_black
,
resonant_eve
,
sky_captain
,
sliceitwithwind
,
solidnotstupid
,
spaceformykits

Subscribers (30):
aquaphobic_pyro
,
belphe
,
bluephoneangel
,
butterflynature
,
calm_havelock
,
chaos_twisted
,
chaoticapps
,
charged_wth_service
,
curiousbodyguard
,
cutestadventurer
,
dagger_dancer
,
dustydiary
,
fearfullymade
,
harmitwithspark
,
irken_nature
,
livingdeadpool
,
missesthemajor
,
mitochondriaaya
,
mom_rocks
,
no_andy_taylor
,
noteasytobeblue
,
noteasytobepink
,
pyronaut
,
rainspirit
,
red_on_black
,
resonant_eve
,
sky_captain
,
sliceitwithwind
,
solidnotstupid
,
spaceformykits

Linking
To link to this user, copy this code:
On Dreamwidth:
Elsewhere: